Authorized Distributorship HDX WILL X-Ray AI/Oral Scanners for Italy - Greece & Cyprus
HDX WILL leads the way in global dental imaging based on continuous R&D and outstanding technology useful in Dental offices and Clinics.
AI Algorithm for Low Dose Exposure, High Quality Image, Auto Detection Precise CBCT with Lower Radiation Dosage than conventional Panorama
Dentio III Panorama X-Ray System

DENTIO III is a state-of-the-art panorama machine specially developed for use in dentistry. With numerous, different recording formats, it is able to carry out a large number of examinations. Technical specifications include:
DENTIO III enables the radiation to be dosed precisely in order to reduce the patient's exposure to radiation to a minimum.
Enables 2.5D Panoramic image with Multi Layer
technology
Panorama with accurate Auto Focus Function
Integrated positioning light: The laser supports the user in the precise positioning of the patient and thus increases the image quality.
High resolution: Thanks to the excellent CMOS sensor, DENTIO III offers clear and detailed images that enable accurate diagnosis.
Ease of use: The machine has a large touchscreen that allows intuitive operation and quick selection of the various recording formats.
Eco-x AI 16x9 / 12x9 CBCT X-ray system with artificial intelligence - AI
AI CBCT: Essential Element in Digital Dentistry with Ultra low dose DVT paired with artificial intelligence.
The eco-x DVT is equipped with numerous features that ensure that every X-ray is a success the first time:
16x9 FOV with Free FOV from 5x5 to 16x9 or 12x9
Low dose option reduces dose area product by up to 66%*
Auto Focus for laser-free patient positioning
Multi-layer for a better representation of the front tooth area in the OPG
Determine the field of view in the panorama and set the CBCT scan area precisely and accurately
* With 331.12 mGy*cm², the low-dose DVT Dental Arch protocol has a 66% lower dose area product than the standard DVT Dental Arch protocol with 977.20 mGy*cm²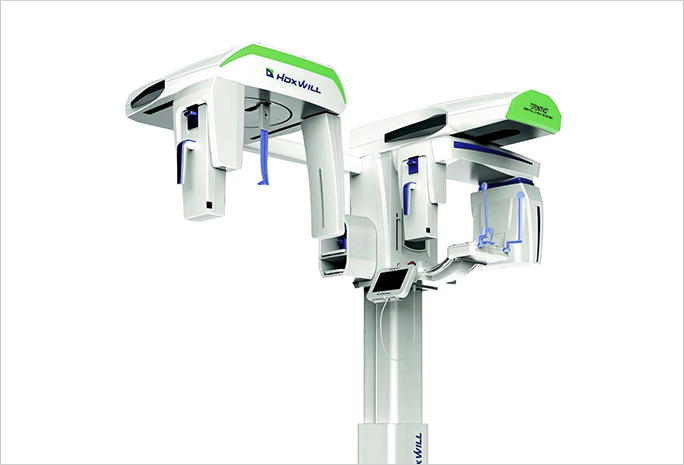 Nobody can do ALARA like the eco-x.
CBCT acquisition with less dose area product than a standard OPG & up to 66% less dose area product in the AI ​​LOW DOSE protocol. Available as an alternative to all Rö protocols.
Eco-x is smarter than you think.
With the AI-MAR function, artificial shades caused by metals can be detected and effectively removed while maintaining tooth structure. Farewell, metal artifacts!
Ultra fast - your new orthodontic super power.
Thanks to our deep learning technology, landmarks are set automatically within seconds and an automatic Ceph analysis of the patient is received at the same time.


Fast Response High Image Quality WP-Sensor for Portable X-Ray
CSI Scintillator / High Resolution / Advanced Image Processing Algorithm
Easy to Use with Increased Patient Comfortableness and Ergonomic Design
Easy Connection Using Twain Driver & USB Connector to a PC
Spatial Resolution – 19-micron pixel size / Thin Sensor Plate – 5.4mm (less than 1/4″)